PrismQuality Systems
For over 15 years, we've been providing software solutions for Fortune 500 companies, focusing on manufacturing quality information systems, specialty issue management, and workflow solutions.
PrismQuality has been a pioneer in providing secure Software as a Service solutions, maximizing customer value with minimal customer resources.
Global 8D
Create, Request, Review, and Report on problem solving efforts using the proven Global 8D Process.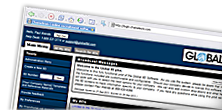 Software as a Service
With years of success safely and securely hosting worldwide applications for large corporations, we know how to make SaaS really work for you.